News

As I settle into my home in the North Carolina mountains, I bring the energy of the inspirational sunrises on the beach of South Florida.
The sun rising yet again creates the beginning of a new cycle of life. This reminds me of the ability of each of us to have a new start each day - if we choose.

I anchor the creative potential of the sunrise among the ancient trees of the Appalachian Mountains - the oldest mountain range on the earth. This is a place of sacred wisdom.

What a combination: A foundation of dependable, inner sacred wisdom and the creative energy of new beginnings. I find this combination potent, satisfying, and fulfilling on all levels. I hope that you do too.

Love - Alice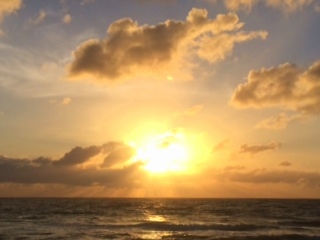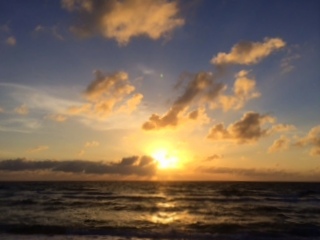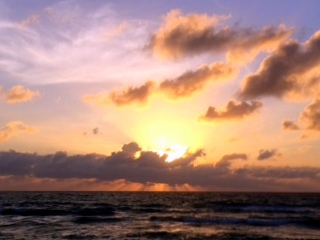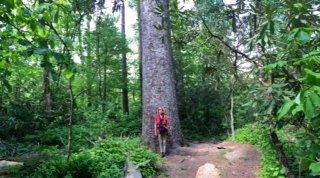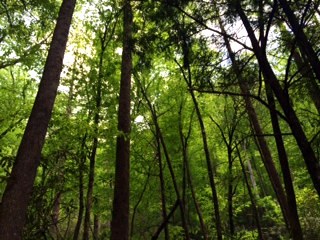 _____________________________________________
As I prepare to leave Lake Worth Florida for Hendersonville NC, I reflect on what these past 6-7 months have been about for me.

Late Fall brought forth much work for me to do on the inside of me, which occurred in rapid succession. There were some possible serious health concerns, so this challenged me to adjust my life to make myself the absolute priority. This was my automatic response - as it is my belief that no one can address those concerns but me. If I allow everything and everyone to jump in and take over, I am not honoring myself as the God spark that I am or meeting my spiritual agreements and personal desires for this life.

After successful intensive inner work, I seemed to enter into an hibernation phase. Although logic told me this was happening to allow everything time to settle and integrate, it was a little more challenging for me. The Universe was giving me lots of openings in my calendar and I initially felt compelled to make productive use of that available time. Interestingly, I could not make myself do the things I wanted to do – and they were all good, creative things – like writing, journaling, etc. I received the idea of being in the void, that this period was about creating the new and being okay with waiting for gestation/manifestation to occur later in the Spring.

Once I received this explanation, I was able to fully move into allowing. The stuck feeling left, and I just was.

The Spring Eclipse series was powerful, adding more encoding and physical/mental changes. I felt a significant shift during this period, bringing me into another level of alignment. This refined alignment allowed me to receive important information for my healing practice and purpose in the future. The void seems to be beginning its birth!

As I leave my cocoon of the South as a butterfly emerging and traveling back north – I bring with me all that has transformed. I am able to more fully be my purpose and focus on my own spiritual ascension. As I move forward in my journey I know that nothing is more important than operating as spirit while living in the human condition. As each of you follow your higher guidance and move forward in your journey – together we are all creating the new reality on the earth just by being true to our path and self. All is in Divine order – we are always safe, cared for, loved.

Please enjoy some wonderful shots (below) of an inspiring spot in Palm Beach – the Society 4 Arts botanical and sculpture garden.

Carolina Friends I look forward to seeing you soon. Lake Worth friends I will see you in the Fall. Stay in touch and remember that I am available to help you via phone, Skype, and email. And to my very dear friends who live in many other locations - I cherish each of you deeply and thank you for staying in touch with me electronically and by phone.

Love and Blessings - Alice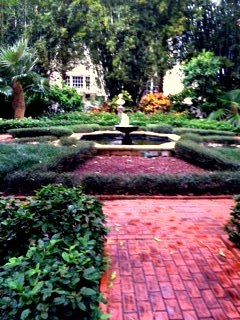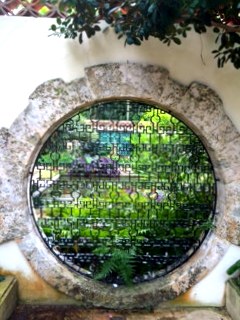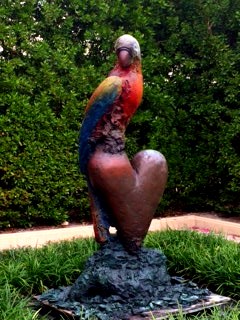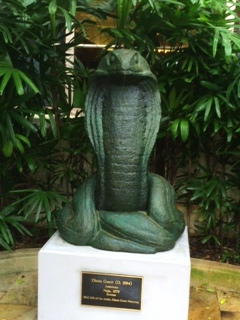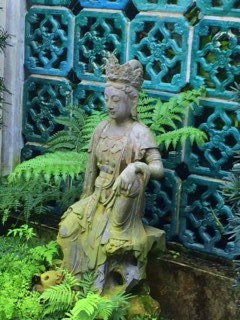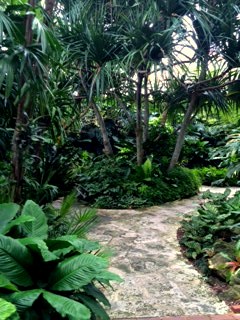 _______________________________________
Lake Worth, Florida is my home for many months of the year, has an incredible and famous street painting festival. Talented artists from around the globe paint their heart onto the street pavement - despite the heat, cold, or rain. There are no winners, ribbons, or monetary gain for this event. Yet they travel here to create their art "in the moment" on our streets.

This is the second year I admired the event. It is unbelievably incredible. This year, however, held another magical moment. After the hard work was completed, rain came and washed "most' of the brilliance away. Many said "isn't it a shame that these talented dedicated artist's work lasted so briefly". They finished at 6:30pm on Sunday and by 2am Monday much of it has be washed away.

I say - WOW! This was creation in the moment for the moment. There is no reward or promise of longevity - it is about expression.
Topics that represent personal tributes or reflections of world events are common expressions.

What an active example of 'living in the moment' this is for all of us. Lots of good energy was created that weekend. Take a peek at some of the art work created - and let this be a reminder about doing what feels right in the moment. Let's honor it and ask that all on earth benefits.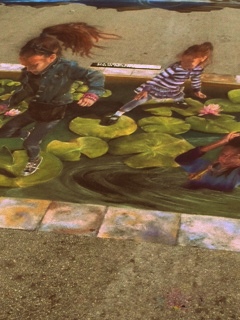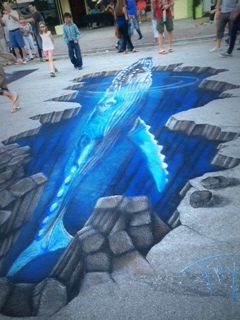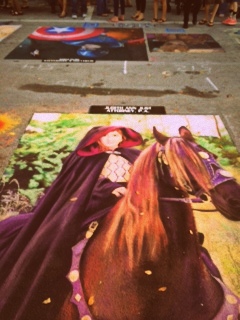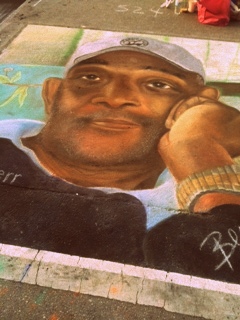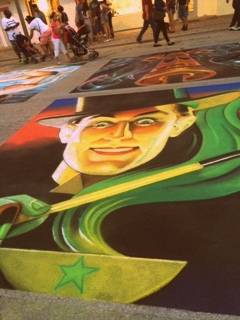 __________________________________________________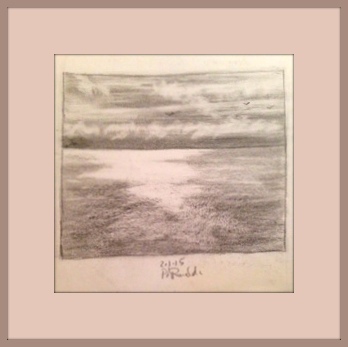 This inspiring sketch by Pat Rinaldi represents to me the illumination, balance, and flow that I am being asked to infuse into the earth this year.

That means I have a new assignment for the new earth in 2015. I wanted to share it with you.

The direction is clear:
1) "The earth is wobbling on her axis; do the work needed to turn this around. Go to your other dimensional sacred space and receive." Well I did and I received a long list, which Lacey Meyer is helping me to address piece by piece each week.

2) "Move more fully into your role as teacher. Start executing your vision of educational videos on YouTube to help wake up humanity." I am finally stepping out to do this and my assistant Nikki has agreed to be the creative director for this project.
Here we go. Stay tuned!

Inbetween focusing on my assignments, I have really been enjoying my daily walks with lots of winter flowers in South Florida.
Take a peak below! Lovely!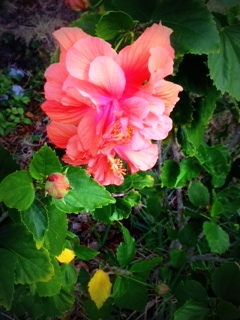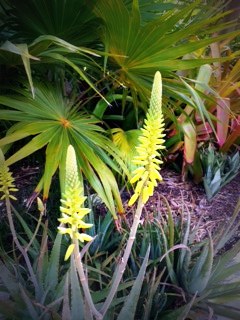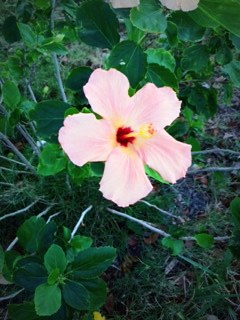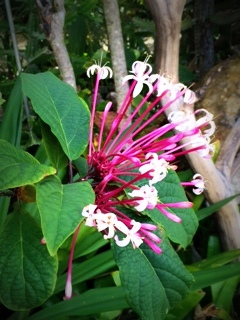 __________________________________________________________________
Hello 2015!

I can't wait to share all that is happening. Don't forget every month I post a new article, my events are regularly updated, and make sure you are signed up to receive my newsletters because there is always something else in the works!

I've also been having a blast doing guest articles and interviews across the web.